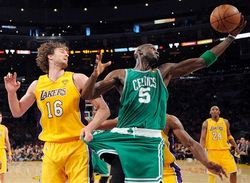 Talking to a Celtics blogger last night, he was pretty candid about how Gasol-Garnett I wound up. "(Gasol) murdered him." Reds Army was still confident the Celtics would rebound naturally (both literally and figuratively), but the cold hard facts can't escape even the most stout Boston fans.
Pau Gasol railroaded Garnett on his way to eight offensive rebounds and a masterful offensive performance, showing every component you could ask for from your power forward. The question will be in Game 2, after all the jibber jabber, how both of these players respond to how Game 1 went.
If Gasol gets confident, feeling he'll be able to repeat his Game 1 performance without a fight, he's probably got another thing coming. KG may not be as "explosive" as he once was, but he is as tough, physical, and savvy as he's ever been. Combine that with the new Bulls head coach's work, and Gasol could be in for a rough day.
On the other hand, there's nothing surprising about what Gasol did, not really. He's the most skilled big man in the game (while Dwight Howard may be the best all around, I doubt anyone would argue that Gasol's skill level is off the charts), and everything he did was well within his wheelhouse. We can get wrapped up in all the talk about toughness and pride, but at the end of the day, Gasol's skills are in their prime while KG's are on a down slide.
Perhaps most concerning for the Celtics is their lack of an alternative. Glen Davis can't properly check Gasol's length, speed, or versatility and would foul out before he could even order his tenth hotdog. Rasheed Wallace is somewhat of a better fit, but again, physically doesn't have it in him to match up. The Celtics are facing a problem they may just have to live with. Which is fine, that' usually an element in any playoff matchup. You can let a great player be great, as long as you shut down the rest of the team.
The problem is that the Celtics already are facing a guy like that in Kobe Bryant. Having two guys you just have to "accept" are going to kill you changes things from vulnerability management to "pain therapy."
Gasol could very well have an off night tonight. But if he doesn't, it's difficult to see from here how the Celtics would be able to counter. That's what happens after every game in the playoffs. We can't see things shifting from how they were ten minutes ago.