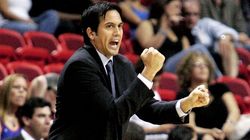 He's done it before. Pat Riley may have a front office job but he would rather be sitting on the bench, winning titles. He threw aside a very good coach to do it before, when Dwyane Wade and Shaq looked like they could win a title.
If the Heat can land another big star — Chris Bosh, Amar'e Stoudemire, maybe even LeBron — to go along side Wade again, then what is to stop Riley from kicking Erik Spoelstra to the curb and take over the team? Riley has said he would take over if a top free agent requested it.
Spoelstra told our own Ira Winderman, writing for the South Florida Sun Sentinel, that he is not worried about that.
"I didn't really take it the way everybody else took it. And nothing's really changed," Spoelstra said of his status, having led the Heat to a No. 5 Eastern Conference playoff seed in each of his first two seasons as an NBA coach.

"We've talked every day. There wasn't really a need to address that. And so I can see how it's portrayed out there in the media. I didn't really take it personally or how people think that it might be portrayed."

"Really, there wasn't a whole lot of discussion about it," he said. "More of it has been about our plan and all the different scenarios and there are so many different ways that the draft and free agency can go."
Spoelstra is a Riley clone in a lot of ways, the Heat run a lot of old Riley sets (although with some variances). Spoelstra also has gotten the most out of that roster anyone would have. He deserves the chance with what may well be a better roster next year.