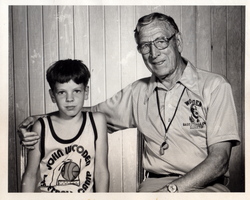 Five days doing nothing but playing basketball. To me as a skinny little fourth grader growing up in Los Angeles, it sounded like nirvana.
The John Wooden basketball camp. I didn't expect anything but a week of playing my favorite sport, and it was summer so I certainly didn't expect to learn anything. That was for school and catechism. I expected to go and just have fun and show off my jump shot, which was way better than any of the other kids in my class. Wooden was going to be impressed.
"What you are as a person is far more important that what you are as a basketball player."
My parents loaded me and a brand new pair of Pony high tops in the Chevy Nova and off we went to the Cal Lutheran campus in Thousand Oaks. Of course I knew who John Wooden was — he was the coach who didn't lose. Or at least it seemed that way. Los Angeles loved UCLA basketball and worshiped Wooden. A guy who could have had anything he wanted in Los Angeles but luxuriated in a simple life with his family.
So there we were on the first day of drills, a couple hundred kids in a huge gym, and in walks Coach Wooden. This isn't like so many camps today, where the name that draws kids to the camp walks in on the last day, gives a speech, shakes some hands, takes his check and moves on. Wooden was there, hands on, every day.
"It's the little details that are vital. Little things make big things happen."
We were ready for some basketball. We were ready to play. And he told us to sit down and take off our shoes and socks. What? UCLA legend Marcus Johnson would come to speak to us later and ask if he started the camp with learning how to put on our socks and shoes. He had done it, too. When the UCLA players showed up for the first day of practice, Wooden went through the same thing with his highly recruited players. Learn how to put on your socks and shoes properly so you reduced blisters and foot problems.
Start at the beginning and make sure you get the little things right. It is just one of the many lessons I still carry over to this day from those camps. Things I try to apply to my life now.
"It's what you learn after you know it all that counts."
Two summers I went to the Wooden camp and it remains some of the best memories of my childhood. I remember friends and I playing jokes on each other at meals (leaving to go to the bathroom during breakfast was a big mistake, your food would not be edible upon your return). I remember the session spent going over the Pyramid of Success. I remember the Dallas Cowboys having training camp there at the same time and thinking I didn't know people could be so big.
I remember Swen Nater speaking to us and halfway through the talk reaching up and grabbing the net with his hands — feet still flat on the floor — and leaning on it like it was a lamppost. At that point, he could have given us the secret to becoming an NBA player, the secret to making our parents feed us ice cream for dinner every night, and we never would have heard it. We were amazed and no words entered our ears.
And I remember the basketball. Lots of basketball. On indoor courts and outdoor ones, against players often better, but holding my own. I remember it was about sportsmanship after every game. I remember spending an hour with one of the young coaches reworking my jumpshot form. For Wooden, it was always about doing things the right way. To this day my form is pretty good. (Note: good form is no predictor of shot accuracy.)
"Don't measure yourself by what you have accomplished, but by what you should have accomplished with your ability."
Years later, while working my way through college waiting tables in Northridge, I worked at a restaurant Wooden used to come in to semi-regularly. We were careful to sit him in a place where other guests would not bother him.
Like most people growing up in Los Angeles, I'm pretty unaffected by famous people. Wooden was different. I went up to him near the end of his meal and said thank you. He asked me about college and what my plans were and how I liked working part time as a high school sports stringer at the Daily News. I refilled his tea. He was the kind of person that when you talked to them you felt like the only person in the room. I'm terrible at that, but I remember that moment and try to be better about it.
Fast forward to this past Thursday night, me pushing to get stories done after Game 1 of the Lakers Celtics. I instinctively told myself, "be quick, don't hurry." Maybe my favorite and the most useful Woodenism. Many other ones that are part of the running dialogue in my head. I still think of those lessons.
Like so many people who crossed paths with John Wooden, I went in expecting one thing and came out with lessons that lasted a lifetime. Things that didn't sink in to a fourth-grader but do to a guy still around the game every day in another capacity. To a guy who is a husband. To a guy who is a father. To a guy who wants to be a better person.
Thank you Coach Wooden. For everything.