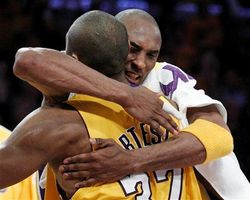 That was not the Celtics.
Or at least the Celtics that will come to play Sunday. They'll look the same, wear the same uniforms, but they won't act the same.
A more aggressive Lakers team and some aggressive whistles from the referees had Boston taking a step back in Game 1. They spent much of the game on their heels. They let the Lakers control the paint, they let the Lakers dribble into the heart of their defense.
It's not going to be that easy in Game 2. And the Lakers know that.
"I think they'll make it much more difficult for us to get to the basket," Phil Jackson said. "I think they're going to try to close their lanes off. I think there were segments of screen-and-roll opportunities that hurt them, they'll make adjustments there. They're a good adjustment team."
The word of the day was aggressive from the Lakers.
"I expect (Kevin Garnett) and the whole team to just be more aggressive, you know, and with a sense of urgency, understanding the importance of Game 2," Pau Gasol said. "But I expect us to be even more aggressive and be ready for that type of intensity that they might bring."
The Lakers also talked about keeping the Celtics from getting easy baskets in transition, of dominating the boards again. Boston, of course, said just the opposite.
There will be adjustments, but with two teams that played each other in the finals two years ago and are still running the same systems, everybody is pretty familiar with each other. There are not a lot of secrets left, not many unexpected tweaks to come.
It's about execution. It's about passion. It is about aggression and physicality.
And the Lakers seem to know what is coming on Sunday.