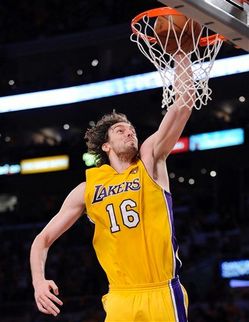 The spirit was willing. The body was not.
Kevin Garnett reached up with the ball to dunk and found it just.. wasn't there.
In Game 1 of the NBA finals, there were many reasons the Celtics fell to the Lakers by 13 (at one point down 20). But it cannot be overstated the level of Pau-nage that Pau Gasol unleashed upon Kevin Garnett Thursday night. Whereas Garnett enjoyed size advantages over Udonis Haslem, Antawn Jamison, and Rashard Lewis, facing seven foot Gasol was a completely different matter.
Gasol finished with 23 points, 14 rebounds, 3 blocks, and 3 assists, with two considerable blocks on Garnett in the block. There was nothing the Celtics could do against Pau. He was a monster. 8, count 'em, 8 offensive rebounds. He had the mid-range, nailing contested shots with a hand in his face. He had the inside game going, cleaning up misses and working the pick and roll superbly.
Garnett? On the long list of red flags for the Celtics after Game 1, Garnett has to wave the brightest and most alarmingly. It wasn't just how Gasol blocked him, dwarfing Garnett, but it was the measure of fail. The play that encapsulated his night was a fourth quarter bunnie miss where all he had to do was dunk with two hands. But the ball just came out, Garnett got almost no lift and the Lakers walked away with possession.
Garnett had made a living in the playoffs off the pick and pop 18 footer. But not only was Gasol's length covering the shot itself, but the Lakers' perimeter defense picked off Garnett's passes resulting in deflected resets and a few steals. Garnett was out of his zone, and then his age did the rest of the damage. 
It was one game, something Garnett can brush off. And he recognizes he has to play better. But the question is what Garnett can do to combat the physical and talent advantages Gasol presents.
One thing's certain. Screaming, yelling, cursing, and hitting your head on a stanchion isn't going to get the job done.