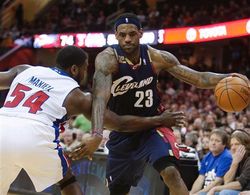 It could be worse. The rumor that Nike was going to make a LeBron James free agent tour shoe series — with the date he was in each city on it — is not true. Nike shot it down. Maybe because they see where this is headed.
James is going to do a free agency tour, Sam Amick of FanHouse reports. He's going to start in New York, then talk to New Jersey, then fly to Chicago. Then he writes my favorite line:
Depending on the level of sustained public interest and the discussions with the teams in the respective cities, James will decide at that point whether to continue on to Miami and possibly Los Angeles to see the Clippers.
Whether he talks to these teams about his future is based on the fan reaction to the tour? This is going to end with LeBron less popular than when he started it, if he is not careful.
Going on Larry King tonight during the finals — that's because it's about LeBron. At least for LeBron. A public tour for free agency? That's about wanting — needing? — to be adored by the public. That is about wanting the ego stroked. This could be done quietly, professionally, but that's not what LeBron apparently wants.
It's too easy to just compare what LeBron is doing right now to what Kobe is doing right now — watching film, working on his game, finding ways to beat the Celtics that LeBron could not. Valid, but too simple.
Does LeBron not see the wave of public backlash coming toward him? Does he not see that America is going to watch him teasing the hearts of fans of several franchises very publicly, then disappointing some of them? Those close to LeBron may be celebrating him, but a very public tour would turn off so many more. It will erode his marketability.
It's the weird dichotomy of American sports writing today. The public says they sick of Tiger Woods stories, that they don't respect or like the man anymore, yet his stories and interviews and tournaments draw more people to read or watch than anything else. Give the people what they want — and if you're watching and clicking on Tiger, you get more of him, like him or not.
So it will be with the summer of LeBron. There will be a mountain of coverage. Including on this site. Because he drives traffic, because people tune in to see what he is doing. But that is a very different thing than saying all publicity is good publicity. That an ego being fed turns off the public, even if we turn in to watch.
Stay classy, LeBron. It's not all about you.