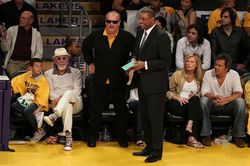 There hasn't been nearly as much speculation about where Celtics head coach Doc Rivers will be next season as there has been about where Phil Jackson will end up. However, there is a sentiment among many NBA fans and executives that Doc Rivers will resign as head coach after this season. 
There are plenty of reasons for Rivers to stop coaching after the finals are over; his team's core is only getting older, he's already won a ring, he's likely got a nice TV job waiting for him if he wants it, and his son Austin is a top basketball prospect in his own right.
But according to David Lefort of ESPN Boston, Celtics general manager Danny Ainge thinks Rivers will stick around next season. Ainge made his feelings clear in a radio interview with WEEI Boston, simply saying that he "thinks Doc will come back."
If Rivers does decide to leave his coaching gig, Ainge said the Celtics would take a look at highly regarded assistant Tom Thibodeau, but seemed less than committed to the idea of promoting Thibodeau to the top spot:
"[If Rivers leaves] then we'll put the search out and put Tom at the head of the class," Ainge said. "[He is] somebody that we would consider and interview but we would also look at all the viable candidates and take our time if [Rivers walked away]. But I don't anticipate that happening."
Thibodeau has been in high demand; the Bulls, Nets, and Hornets are all reportedly looking at Thibodeau to fill their vacant head coaching spots. When asked about Thibodeau's head coaching prospects in other cities, Ainge was supportive:
"It's an opportunity he's been looking forward to for a long time and we hope he gets the job of his choice," Ainge said. "I think Tom is being selective. He's a candidate in the three cities that he's interviewed — New Jersey, Chicago and New Orleans — and I think he feels like he has the luxury to explore all three of those."
Whatever the chances are of Doc returning, Ainge may want to get a bit more assertive in his efforts to keep Thibodeau — if Doc does leave and Thibodeau's best offers are from other franchises, there's a good chance the Celtics will both of their top coaches this summer.