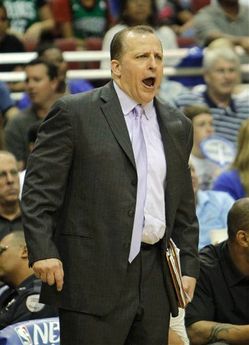 UPDATE 2:45 pm: Now it appears that there is no decision, but the deadline is looming for one this afternoon. At least that's what Yahoo's Adrian Wojnarowski said on twitter.
Tom Thibodeau is
still in play for Hornets job and clock's ticking toward an afternoon
deadline to accept or reject offer, sources tell Y!
We warned you to take the NY Post with a grain of salt.
9: 29 am: Apparently Celtics assistant Tom Thibodeau wants to play the field.
Thibodeau turned down the Hornets offer to him to become their next head coach, according to the New York Post. One should take that with a grain of salt because it is the New York Post, but the pattern does fit with other reports from people around Thibodeau that he was waffling on the offer and preferred the other options out there.
Those other options would be the Chicago Bulls and New Jersey Nets. Except nobody has offered Thibodeau a job yet. The Bulls front office staff — including John Paxson — are in Los Angeles right now to interview Thibodeau (who will be on the sidelines as an assistant coach for the Boston Celtic in Game 1 of the NBA finals). Well, that's what the Chicago Tribune said, but the Celtics say they have not been contacted for permission to speak with him by the Bulls. So… welcome to limbo. Nets officials are not talking about where their search stands.
One long shot third option: Doc Rivers decides to walk away from the Celtics at the end of the playoffs, and Thibodeau moves down one seat to the head man's job. Rivers walking away is not be that likely, although he has said he would reconsider his future and if he wants to keep coaching after the playoffs end.
With Thibodeau out, it appears Portland assistant Monty Williams will be the next Hornets coach. Rumors out of New Orleans said that the Hornets front office staff was split on preferring Thibodeau or Williams, so they have no problem going with the next choice.