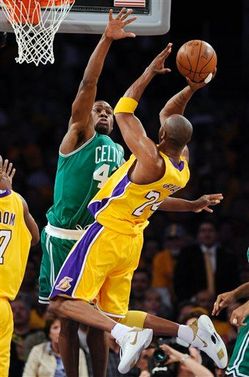 The Lakers had said they were not going to back down, that they would go right at the Celtics. And they did.
The result is a 50-41 lead at the half, with Pau Gasol and Andrew Bynum combining for 18 points, 12 rebounds and three blocks. Lakers have 28 points in the paint, the Celtics 12.
But combine the Lakers aggressiveness, the Celtics physicality and the quick whistles of tonight's officiating crew, and you had a foul-filled first half. Lamar Odom from L.A., plus both Ray Allen and Tony Allen from Boston all have three fouls. Six other players have two. Teams are slowly adjusting, but also not backing off the aggressiveness.
Rajon Rondo's 10 points — including a late fade-away two at the buzzer for the half — plus four assists have kept the Celtics in this. It was close until about the four minute mark of the second half when the Lakers went on a run to stretch the lead into double digits
Much of the first half felt like a boxing match where the two fighters were feeling each other out. Expect a few more punches this half. And a lot more fouls.