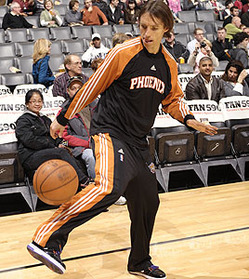 Steve Nash may not be competing in the NBA finals, but he'll be a part of something much bigger in scope. CBS Sports announced today that Nash will be a part of their coverage of the World Cup in his native South Africa.
Apparently Nash is set to contribute video segments to CBS' coverage of one of the world's biggest sporting events, probably because of Nash's impressive YouTube video resume.
Nash's love of soccer is well-documented, and the intersection between that torrid, passionate affair and his day job has produced some very entertaining results. This will likely be more of a pure, fútbol-centric project from one of the NBA's most endearing personalities, but I'd still be shocked if he doesn't knock it out of the park. Nash is just too funny and too likable not to.