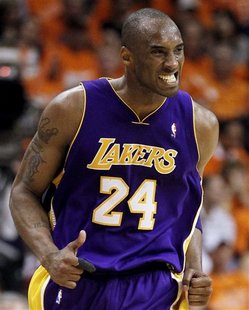 Jerry West is a man to listen to.
Not a man given to hyperbole. A man of perspective. As competitive an NBA player and general manager as there ever has been (read the book), but a man with an eye for the bigger picture. There are a few people around — Bill Bradley, Bill Russell, Kareem Abdul-Jabbar — that have an interesting perspective inside and outside basketball that make their thoughts fascinating. West is among them.
And right now, Jerry West is heaping high praise on Kobe Bryant.
In doing so, he also makes an interesting point about these NBA Finals, something he did on Hartman and Friends on FoxSports Radio:
He's playing the best basketball I have ever seen him play to be honest with you. When he shoots shots a lot of people would probably think they are bad shots. For him, he is not only creative, but he is a shot maker. Some people are creative, but they're not shot makers. He can make tough shots. He just seems to will the ball in the basket. I've never seen him play better… At this time of year, people talk about adjustments that people make. The adjustments that people make are not really the telling part of it. Your great players, this is their time to shine. You can't really run your offense. After the first couple of games, everyone will be waiting on everyone. The team that has the best ability to beat people off the dribble and be creative will be successful. There's no better player that I've ever seen than him… He's the greatest Laker player that we have ever seen."
It's interesting because the Celtics defensive strategy against the Lakers (as opposed to what they did against Orlando) is to double Kobe, to always have the help close by, to take the chance to be creative out of his hands and make somebody else beat them.
But right now, Kobe might be able to rise above that. At least West thinks so. And he's a man to listen to.