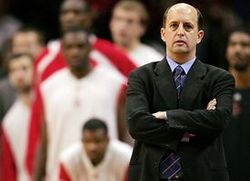 Is there a better gig for an ex-coach than "television analyst?"
You still get to use that knowledge gained from countless hours in sweaty gyms and darkened film rooms, but without the pressure of trying to win with questionable talent. You still get to keep your feet in the pool, should you ever decide to dive back in. You get to see the best games and not have to slog through Minnesota/Indiana in February. You get to see more of your family and friends.
Jeff Van Gundy apparently likes that life, which is why he has taken himself out of the running to coach the Nets next year. . At least according Nets General Manager Rod Thorn talking to Dave D'Alessandro of The Star-Ledger.
Jeff Van Gundy, who had the teaching background and defensive know-how that Nets president Rod Thorn has been looking for since the search began, has told coach-seeking executives that he has officially decided to stay in the TV analyst business next season, the Nets reluctantly confirmed

"I don't want to say anything about it … but I think from everything I gather, that it's probably true," Thorn said today.

Asked whether it was accurate to state it from another perspective, and confirm that Van Gundy is no longer one of the "four to six" candidates on his short list, Thorn replied, "That would be correct."
The Nets continue to look for a way to make a big splash this summer. They lost out on the lottery, but they will go after big-time free agents come July 1. They also are looking for a name coach, a criteria Van Gundy would have filled.
But the Nets are still searching.