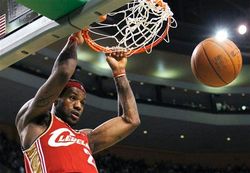 Of all the crazy, ridiculous offers to lure LeBron James somewhere, or keep him in Cleveland, this is the first one where if I were him I'd take the person up on it. Because I love good food.
Cleveland restaurateur and Food Network Iron Chef — American, not the cooler original Japanese version — Michael Symon has said he will come over to LeBron James house and cook for him and his friends once a month for free if he stays in Cleveland. For the first time ever, I really want to be LeBron's friend. At least for one day a month.
Symon came to fame for his restaurants Lola and Lolita in Cleveland (Lola is in downtown and has benefited from the energy and people LeBron and the Cavaliers bring to the city). And if he is willing to cook for you — do it. He does American food — steaks, seafood — but with a modern flair and does it in a sustainable way. He's got all the top awards a chef could want — 2009 "Best Chef Great Lakes" by the James Beard Foundation, and Food & Wine Magazine's "Ten Best Chefs in America." They don't give those things away.
Symon should not be an Iron Chef, though. He beat out New Orleans' John Besh in the finale of "The Next Iron Chef" competition. And he shouldn't have. With all do respect to Symon, Besh killed it all competition. He does something different and uniquely regional with American cuisine. He was the best candidate. Then Symon went Villanova on Besh's Georgetown in the finals. Not fair. In a best of seven, Besh wins.
Glad I got that off my chest. I'm hungry and need to go get some lunch. And a bologna sandwich will not cut it now…