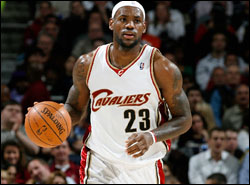 When you're an agent, you don't just negotiate the fat contract for your client then watch the money roll in. Well, not if you're a good one. Your job is bigger than that.
You have to have your player's back, keeping him out of trouble.
So, hypothetically, if you're client starts talking about all the free agents getting together to talk and choreograph their free agent moves — to border on tampering — then you get your political spin machine going and shoot that down.
Which is exactly what the agents for Dwyane Wade and Amar'e Stoutdemire said to Darren Rovell yesterday at CNBC.
"Dwyane never made reference to a summit," [Wade's agent Henry] Thomas told me. "He said that he'd have conversations with some of these guys and that still will happen. These guys came into the league at the same time and they're in similar situations, so it's unrealistic to think that they won't talk. But there's no summit of any kind planned where they'll all be in the same location."
Except, in the leaked transcript of LeBron James' Larry King interview (as seen here at Blogabull, but reported in several spots), the biggest fish himself basically says there is one.
KING: What if [you tell free other free agents] you go there and I go here and we go here? Is that possible?

JAMES: I don't know to that extent, but it will be fun. It will be fun to get all the free agents together and, you know, figure out a way how we can make the league better.
Now let's delve into the semantics of spin.
Wade never used the word "summit." In fact, there is very little chance — with the busy summer schedules top NBA players have — that all of them are going to be able to coordinate and sit down together in the back of some expensive New York restaurant and just talk it out. There likely will not be one big meeting.  (For the record, we at PBT had never used the word "summit" until this story, although we did compare it to the Apalachin Meeting, which was a summit.)
But not having everyone sit down in one place for a meeting and not having everyone share information as would happen at a summit are two different things. In our modern world of communications, meetings like this are often not face-to-face.
Wade, James and Bosh all share CAA as an agent firm. If you don't think they are all sharing information, you are a fool. They admit as much, saying they are doing it just to get the best deal for their clients. But when those clients leak that "LeBron is going to X, Bosh is going to Y" info to others it will change the landscape. Others will try to get in with them. If LeBron really wants to play with a particular player, they will talk. If Wade really wants Stoudemire in Miami, they will talk. And so on, and so on, and so on. Everyone will share the information.
So Wade's agent Thomas is right, there is not going to be a "summit." But efforts bordering on tampering by any other name smells as sweet.