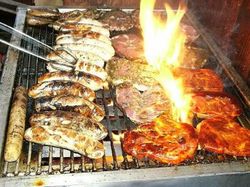 We know what you were doing this weekend. Putting tri-tip and chicken/apple sausages on the grill, while trying to figure out if that snow cone making machine you bought the kids could be used to make great frozen margaritas. Yes, yes it can.
You were not, however, reading PBT. But now that you're back at the office looking for ways to avoid actually working, we have some suggestions for you.
That's because we did not rest over the weekend. We are relentless. We are the Terminator — the cool mimetic polyalloy/liquid metal one from T-2 — and we do not quit. Ever. And we put together a whole bunch of NBA finals pieces you should check out.
* Don't go thinking that 2010 is like 2008. Rajon Rondo is better. The Lakers have Ron Artest and Andrew Bynum in the lineup. Pandora did not exist yet. There are a lot of key differences between then and now.
* Five keys to victory for both teams. Sorry, but one of them is not "Jack Nicholson takes out Doc Rivers." I'd still like to see that, though.
• Our interactive breakdown of the players and coaches. This is very pretty and fancy. We like pretty and fancy. Plus it forced us to take less than 5,000 words to describe everyone.
• The five best NBA finals ever. Yes, of course there are a bunch of Lakers/Celtics games in there. But the Phoenix Suns still made the list, too. Just like you expected.
• Lakers/Celtics: Which franchise reigns supreme? A barstool-style debate where Lakers fans think they are the best now and Celtics fans know they are.
* Lamar Odom is thinking it may not be a good thing to bring his reality-show star wife to the Garden without security. On the other hand, if she wants a dose of actual reality, that's what she should do.