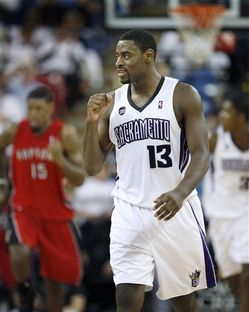 Tyreke Evans drives hard.
And we don't just mean into the lane off the high pick-and-roll. We mean his Mercedes-Benz S550.
Evans was pulled over by the California Highway Patrol — think CHiPs — for doing more than 100 mph on a freeway near Sacramento, according to the Sacramento Bee. This wasn't some polite Eric Estrada stop either: because Evans had the drivers and passengers side windows tinted (illegal in California) and officers could not see in, they did a full guns-drawn felony stop.
The CHP described Evans as cooperative and he was simply cited when it was all over. And so he is off to traffic school. Is there a special traffic school for people driving over 100? Something that discusses the Autobahn?
However, at that speed Evans should make good time from Sacramento to Las Vegas this summer, when he goes to the camp for Team USA in July.