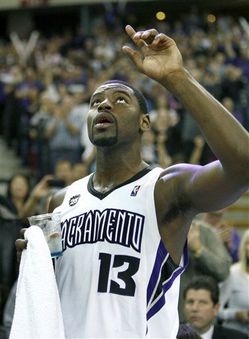 The Sacramento Kings have a boatload of cap space.
Nobody ever really mentions this, you don't hear the Kings come up in the LeBron sweepstakes talk, but the money is there. Two of the worst contracts in the NBA — Larry Hughes and Kenny Thomas — come off the books, so the Kings are about $23 million below the salary cap.
And they have a cornerstone piece in Tyreke Evans, as Kings co-owner Joe Maloof pointed out to CNBC's Darren Rovell. So, Joe, do you go after a free agent.
We're trying to figure out what will happen with the Collective Bargaining Agreement because who you sign now could affect you later. But if we feel like there's a player out there who will change the direction of this franchise, we're going to try to get him. We're not out of anything. If we don't think that the time is now, we'll hold on to that money and spend it later and, in the meantime, continue to build with youth.
Expect mostly the latter. The Kings are not a team spending big right now — they are in a small market hit hard by the economy. Revenues are way down, so they have to pare back expenses. They would rather add quality young pieces (read: inexpensive) around Evans and build up rather than spend for the big jump.
They need fans back in the building — maybe in a new building — to start spending big again. Basically, if Evans can draw the fans in, he gets better teammates. No pressure, kid.