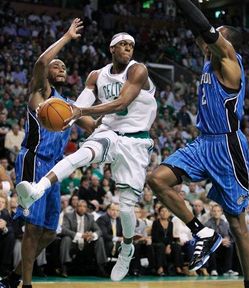 Rajon Rondo is the Celtics key to this series — his dribble penetration, his ability to get easy points in transition. He is how the Celtics score now, and against the Lakers that will be doubly true as he attacks a defensive weakness.
But he is not right, as ESPNLosAngeles.com's Ramona Shelburne reports.
"I'm about 67 percent today," Rondo joked, before the Celtics practiced at UCLA's Pauley Pavilion. "I won't be 100 percent by Thursday, but I'll be like 94.7.

"Right now, nobody in the Finals is 100 percent. If you find someone let me know who is, let me know," he said. "You can ask the Lakers too. One of our rookies might be 100 percent."
Nobody is 100 percent, but for each point that Rondo slips away from that number, so do the Celtics hopes. And 67 percent will not cut it.