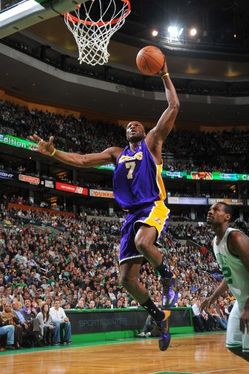 Coaches worry about everything. It's what they get paid to do. They worry matchups, execution, referees, clashing personalities, injuries, the media, who their daughter is dating, how much air is in the balls, the music played during timeouts, the cost of dry cleaning. Everything.
But when a coach singles out one particular worry, as Doc Rivers did to WEEI in Boston about Lamar Odom, you know it is serious.
"Yeah, he's tough.  He can play the three full-time if he wants to.  That is the speed that he has. You know where he concerns us the most is on the rebound breakout.  He's one of the few bigs in the league that rebounds the ball, brings it out and then leads to their break.  That's a very difficult challenge for us.  It creates mismatches.  It ends up where a guard has to take the ball. Now we have bad matchups around the floor.  He's been very effective against us doing that. So that is our big concern with him."
Two years ago the Celtics won the battle of the benches handily. James Posey killed the Lakers. The Celtics need to do that again, with some combination of Sheed, Big Baby and Tony Allen (who may be the Celtics best choice to defend Kobe).
Lamar Odom could change that bench equation around. By himself. Or not, you never know what Lamar Odom you get on any given night. But for Doc that's still a worry.