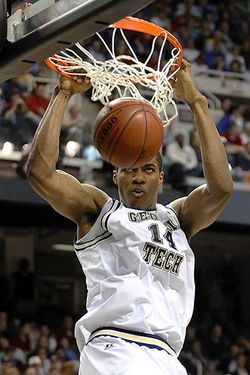 It makes a lot of sense for the Philadelphia 76ers to take Evan Turner at the two — the Brandon Roy style guy could play along side Jrue Holiday at the point and Andre Iguodala at the three, then the Sixers could run like the wind — be entertaining and win games. Crazy concept.
But don't bet on it. Looks like the Sixers are eyeing big men.
The Nets have set up the ultimate big man showdown workout for this draft — Derrick Favors and DeMarcus Cousins. That according to the very reliable David Aldridge at NBA.com, who also said that new coach Doug Collins will have a lot of say in the pick to be made. And he had this quote from a source.
"Chris (Doug's son and the associate head coach at Duke) is a big Derrick Favors fan. And Doug is going to hire Michael Curry as an assistant, and Michael is a big Favors fan."
This move would be very Collins. While he talked at his press conference about freeing up the Sixers to run more, which would not be the style we remember from him. He's a slow it down, keep it in control, don't make mistakes kind of coach. He could be thinking instead of going big, moving Iguodala to the shooting guard spot.
Also remember that Samuel Dalembert's contract is in its last year. If the Sixers can get a big man they really like — say Favors, who at the combine had physical measurements similar to Dwight Howard at that age — then Dalembert becomes a trade chip.
The Nets at No. 3 need to take the best player available — Turner, Favors, Cousins. Whichever they like best. The Nets may have some nice young players but lets be clear that they could use more talent anywhere on the floor they can get it.