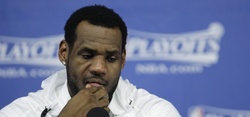 Courtesy of CNN.com, here's an interesting excerpt from LeBron James' interview with Larry King, which is scheduled to air on Friday:
King: Do you lean at all toward the place you know the best? I mean do they have an edge going in…

JAMES: Absolutely. Because, you know, this city, these fans, I mean, have given me a lot in these seven years. And, you know, for me, it's comfortable. So I've got a lot of memories here. And – and so it does have an edge.
Regardless of what LeBron's intentions are, that was probably the right thing to say — LeBron has always been proud of his hometown roots, and it's good of him to let the people of Cleveland and the fans that have supported him over the last seven years know that he appreciates what they've done for him. 
Whether LeBron is being completely sincere, putting pressure on the front office to make moves this summer, or covering his bases if he does leave (I suspect it's a bit of all three), remains to be seen. But for now, it's nice to see LeBron show some loyalty to his home state and the franchise that drafted him.