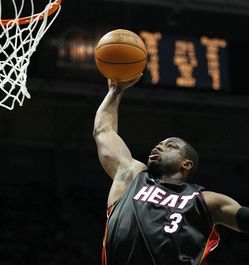 New York Knicks GM Donnie Walsh has spent two years clearing cap space for the summer of 2010. Thanks to Walsh's willingness to trade away every contract and draft pick that wasn't nailed down, the Knicks now have enough money to sign two max free agents this summer.
 It hasn't exactly been a secret that the Knicks' main target is, was, and always has been LeBron James. James is a force of nature, the reigning two-time (regular season) MVP, a household name, a brand unto himself, and a guy who's been known to love the bright lights of Madison Square Garden. Up until now, James in a Knicks uniform has always seemed like a natural fit. 
However, now that the summer of 2010 is finally upon us and LeBron James and Dwyane Wade have both played the last games of their current contracts with the Cavaliers and the Heat, it looks like Wade may actually be the better fit for the Knicks. Allow me to explain.
First of all, there's the issue of availability. Cleveland has the ability to pay LeBron significantly more than any other team can, they have some solid pieces already, and they've shown that they are willing to spend whatever it takes to surround LeBron with the best talent available. If they can pull off a big sign-and-trade deal for a player like Chris Bosh this summer, there's a high probability that LeBron will stay with his hometown team. 
If Cleveland can't entice LeBron to stay, Chicago has cap space, Derrick Rose, Joakim Noah, and the chance to turn Luol Deng into a running mate via sign-and-trade. The Knicks have no draft picks in the coming years, their roster is threadbare, and their only quality young player is Danilo Gallinari, who plays the same position as James. All the Knicks have to offer LeBron  is the allure of the big city and the chance to play alongside another max free agent, and that might not be enough for LeBron. 
Meanwhile, Wade has likely had just about enough of being a one-man team in Miami, and has to assume that New York can't do a worse job of surrounding him with talent than Miami has over the past couple of seasons. He's already engaged in a war of words with the Bulls franchise, which makes it look like he won't end up with his own hometown team. If you take those teams off the table, the Knicks start to look like a pretty good choice for Wade. 
So Wade should be easier for the Knicks to get their hands on than LeBron this off-season. But that's far from the only reason that Wade signing with the Knicks would make sense for both sides. In fact, there are plenty of reasons why Wade would be a better fit for the Knicks than LeBron James would be. 
The Knicks are the ultimate high-risk/high-reward proposition for potential free agents this summer. If a big free agent ends up carrying the Knicks to a championship, they will be on top of the sports world, and their exploits will be fondly remembered for many years to come. If they don't get it done, they're stuck on a team without draft picks, very few talented young players, and no real way to improve their situation in the near future. Since Wade's legacy has more to gain and less to lose than LeBron's does, New York makes more sense for Wade than it would for James.
One thing we know about playing in New York is that the media pressure is constant and unrelenting.
Every move a superstar athlete makes in New York is scrutinized from every possible angle. And once the New York media puts a label on a player, that label tends to stick. Mariano Rivera blew a save in game seven of the World Series and also allowed the Boston Red Sox to come back from a 3-0 deficit — he's still known as the greatest playoff closer of all time. Derek Jeter could go the rest of his career without a big hit and still be the guy Yankee fans would want at the plate with the game on the line.
On the other hand, look at how the New York media treated A-Rod before he won a world series with the team, and he still hasn't been fully embraced after winning one. When the New York media turns on you, your entire legacy can be destroyed in the time it takes to come up with a headline.
Everyone assumes LeBron James wants more media attention, but would the increased attention he'd receive in New York really help him? He's already a household name thanks to the national media, and most national media outlets are extremely kind to LeBron.
The Cleveland media is occasionally critical of LeBron, but they normally write about LeBron as the best player in franchise history and the man who brought winning basketball back to Cleveland. (Which, to be fair, he did.) In short, there are worse situations to be in than LeBron's current one.
Is an obsessive local media culture that is often all too willing to feed on its own superstars really who LeBron wants covering his career? In a lot of ways, LeBron's career arc mirrors Alex Rodriguez's at this point in his career: historically great production, regular season MVP awards, some disappointing playoff performances, and no rings. His persona is also slightly similar to A-Rod's: on paper, he should be a marketing agency's dream, but there is a manufactured quality to his persona that turns some people off, and many people find both LeBron and Rodriguez's on-court/field antics distasteful for one reason or another. 
If LeBron does become a Knick and fails to win a championship in his first year, there's a distinct possibility he could become basketball's answer to Rodriguez's early years in pinstripes. 
Wade, on the other hand, has something that no other major free agent has: a championship ring of his own. He even has a Finals MVP trophy to go along with it. Whatever happens over the course of Wade's career, nobody will ever be able to discount what Wade did against the Mavericks in 2006. Like I said earlier, reputations in professional sports tend to stick, especially when they are earned while winning a championship. 
Whatever happens in New York, Wade won't be labeled a "choker," a player who "doesn't know how to win," or "a true champion," because he's already proven otherwise. If Wade takes the Knicks to the playoffs a few times and never wins a championship, he won't be remembered as an all-time great, but he won't become a pariah either. I'm not sure you can say that about LeBron. 
Not only does Wade have less to lose by playing in New York than LeBron does, but he may have more to gain as well.
A few years ago, the "best active player" debate was a three-way argument between LeBron, Wade, and Kobe; after Wade suffered some injuries and the Heat struggled through some tough seasons, Wade's name dropped out of that debate, and he currently doesn't have quite the same standing that LeBron and Kobe do.
Going to New York would change that in a hurry. Wade is a great basketball player who has done some funny commercials alongside of Charles Barkley; if he goes to the Knicks, he has all the charisma necessary to become an absolute superstar. (And don't forget that his girlfriend, actress Gabrielle Union, wouldn't have any problems adjusting to the bright lights of the big city.) 
It almost seems like an afterthought at this point, but it's worth mentioning that Wade would be a very good fit for the Knicks on the court — he would be the perfect player to set up Danilo Gallinari with open threes, and as the best playmaking guard available in free agency, he should work well in Mike D'Antoni's gu
ard-dependent system.
Give Wade an Amar'e, a Boozer, or even a David Lee to work with in the frontcourt, and the Knicks could be very fun to watch and very good very quickly. 
So there you have it: the case for Dwyane Wade to sign with the New York Knicks next season. New York has been holding their breath for LeBron for the last two years; if Donnie Walsh and Co. open their minds a little bit and make a real run at Wade on July 1st, they could find that the best man to make Knicks basketball relevant again is the man they've only thought of as a consolation prize so far.