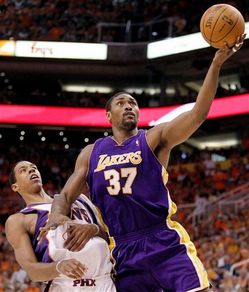 Ron Artest is a complex person. We tend to try to fit players into simple two-dimensional pictures, but some players burst outside those lines. Ron Artest is one of those. He is also a person and player who has matured, but we often dismiss that maturation process in players.
Now Artest, dismissed by so many, is now on the doorstep of an NBA Finals. A finals the Lakers would not be preparing for now without Artest's Game 5 heroics and his Game 6 second quarter. It's a bit of redemption.
And he admitted to CBS's Ken Berger he might not be here without the hard lessons he learned as a Pacer. But he has regrets from that time.
"The biggest regret of my life, really, is bailing out on that Pacer team," Artest said. "I mean, outside not going to church every single Sunday, bailing out on that Pacer team is my biggest regret. Every time I see Jermaine [O'Neal], every time I see Steve [Jackson] and Jamaal [Tinsley] … I get a little bit of a feeling when I see [Larry] Bird, because he was such a great player and I respect him so much. So I get that feeling when I see Bird. I feel like a coward. I feel like I don't even belong in their presence, really."

"When I saw Jermaine [this season], I felt like I didn't even belong in the same room as him," Artest said. "I felt like a coward. I don't like feeling like a coward, and I feel like a coward. That's the biggest regret of my life. Steve Jackson, Jermaine, Jamaal, even Jeff [Foster] — a blue-collar guy like him, put his life on the line for us on the court, and I totally disrespected him. And of course Reggie. I was in a position to win a championship, Reggie was in position, and I bailed out on Reggie. I feel like a coward. A big-time coward. It's hard for me to even speak to them, hard for me to see them."

"I learned a lot from those days, and regret a lot," Artest said Sunday, the Lakers' last day off before the Finals. "It molded me to be a better teammate."
The Lakers will need that teammate. One big difference from the 2008 version of this Finals matchup is that the Lakers have Artest to put on Paul Pierce, who did whatever he wanted in that first meeting. Artest may be able to bring to his teammates in Los Angeles what he was not ready to help bring to Indiana. The Lakers are counting on him.
And they couldn't care less how well he fits within the lines drawn for him by fans and the media. Only that he keeps being Ron.