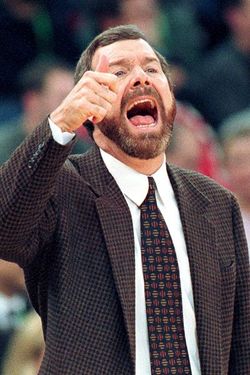 According to Ric Bucher of ESPN the Magazine, the Toronto Raptors are close to signing P.J. Carlesimo to serve as an assistant coach under head coach Jay Triano. This would be Carlesimo's first NBA coaching job since Scott Brooks replaced him as the head coach of the Thunder on November 22nd, 2008.
Before coaching the Thunder, Carlesimo had served as the head coach of the Portland Trail Blazers and the Golden State Warriors and an assistant coach for the San Antonio Spurs.
Before coaching in the NBA, Carlesimo served as a head coach for Seton Hall, New Hampshire College, and Wagner College of Staten Island; he was also an assistant coach with both the 1990 FIBA U.S. National team and the 1992 Olympic "Dream Team."
Carlesimo is perhaps best-known by NBA for being brutally choked and elbowed by Latrell Sprewell during a 1997 Warriors practice, which led to Sprewell being suspended for the rest of the year. In Toronto, Carlesimo's main job will almost certainly be to shore up Toronto's porous defense; the Raptors were a potent offensive team during the 2009-10, but missed the playoffs because they ranked dead-last in the NBA in defensive efficiency.