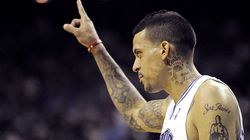 Matt Barnes had a rough conference finals, as he was asked to chase around Paul Pierce and Ray Allen with a sore back, but all in all he had a fairly successful season as a role player for the Magic. So much so that Barnes himself apparently thinks he'll be able to make more than the $1.6 million he's ready to leave n the table by opting out of his current contract to become a free agent.
From Josh Robbins of the Orlando Sentinel:
"As for me and my contract situation, I'm going to opt out," Barnes told reporters gathered at RDV Sportsplex this morning. …"I've expressed
throughout the season that I've loved my time here and would love to
return. But I think more than anybody that this is a business. The
organization has to do what's best for the team. Hopefully, I impressed
them enough to bring me back and give me something decent, but we'll
have to wait and see about that."
Even if the six games against the Celtics didn't make Barnes look
particularly good on either the offensive or defensive end, he's still sure to draw interest from teams looking to add low-maintenance, complementary talent. The guy is more than just an "intangibles" guy even if his impact doesn't show up on the stat sheet. He's a very solid perimeter defender that moves without the ball and can space the floor, three traits which make him an interesting role player.
Orlando will likely make an effort to keep him, but from the sound of things it seems like Barnes' decision will come down to the money. Tough to blame him, as he's hardly locked in for huge, mega-deals for the rest of his career and his biggest payday yet was a $3 million, one-year deal from the Warriors in '07-'08. We'll have to wait and see whether or not the Magic will give Barnes the most lucrative offer, but they could definitely use his services next season.