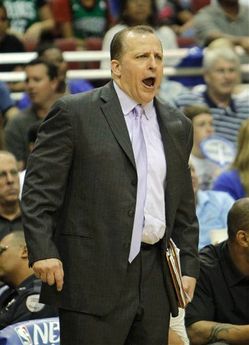 Right now Tom Thibodeau may be the prettiest girl in the bar, and the Hornets are stepping up to make their move.
New Orleans has entered negotiations with Thibodeau to become their new head coach, according to Yahoo's Adrian Wojnarowski. This means that Hornets General Manager Jeff Bower has exchanged offers with CAA, the firm that represents Thibodeau.
Meanwhile, Thibodeau himself continues to work as an assistant for the Boston Celtics, trying to put together a defense to slow the Lakers in the NBA Finals.
Thibodeau will be a head coach somewhere next year, that much we know. While the Hornets are making offers there are upcoming interviews he is expected to have with New Jersey and Chicago. He is a hot candidate. Certainly CAA will want to do what agents do, which is keep all the options open as long a possible and try to leverage that into the best deal for Thibodeau.
The Hornets, however, may not wait around. Wojnarowski reports that Trail Blazers assistant Monty Williams is second on their list and if negotiations with Thibodeau fail to progress they will not wait around to be used as leverage.
The Hornets have some nice pieces — Chris Paul, David West — and this was a team considered an up-and-comer a couple years ago. They can be good again quickly with the right coach (and some luck staying healthy).