Lakers players remember two years ago, when Boston fans rocked the team bus and pelted it with whatever they had in their hands after Game 6. They remember the hostile crowds. Lamar Odom remembers his kids hearing it from Boston fans.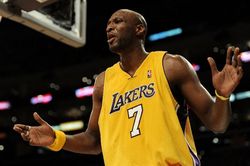 So understand that he is a little hesitant about his new, celebrity bride to Boston for the middle games of this series, as he told Kevin Ding of the OC Register.
"I don't know how my wife is going to be able to sit in the crowd," Odom said, later adding that security might be needed.

"It'll be fun, though," Odom said. "I respect the (Boston) crowd and the knowledge they have of the game."
The Lakers demeanor has been very businesslike so far. Family may come on this trip, but they will quickly learn this is not a vacation. And people out walking down Newbury Street in Lakers gear are going to get an earful.