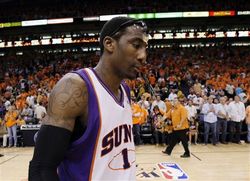 The thing about the Phoenix mythology? The bird does die again.
The Phoenix Suns rose from the ashes this year, returning to the playoffs and not only advancing to the Western Conference Finals, but pushing the Lakers in a competitive series despite their numerous mismatches. So the natural question to ask is "What's next?"
The answers are not brilliant.
The Suns have one major priority for the summer: re-sign Amar'e Stoudemire. That's it. The options are pretty simple. They can re-sign Amar'e Stoudemire, keep the most explosive pick and roll duo in the league together, and keep building assets to maintain contention. Or they can let Amar'e go, fill that cap space hole with a stopgap, and start shedding salary to plan for the future, one which most likely won't feature Grant Hill or Steve Nash.
Re-signing Amar'e won't be a piece of cake. He was significantly put off by the amount of trade rumors he was forced to endure and knows that his value on the open market has never been higher. he'll be courted by major market teams with major market salaries, all hoping to add that component in Amar'e that will put them into championship contender.
And while the Suns can pay him the most, are convenient, are "home' and are emotionally difficult to leave, Stoudemire has to ask himself if it's the best place to compete for a championship. This season for the Suns was amazing. Terrific. Inspiring. But it was also about the best this core of players can get. Meanwhile the Suns don't have a first round pick and don't have the cap room to sign a major player or the assets to trade for one. The only way the Suns become a major force in the playoffs again is if they were to add an All-Star to an already loaded roster. And that just may not be possible.
The Suns proved that you can make the Western Conference Finals with talent, heart, and guts playing a fun, fast paced style of offense and lead it with a bench mob. The Finals proved that team may not be able to win a championship.
The Suns went down swinging. But that still means they went down.