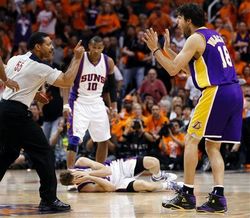 "I'm going to kill him."
That was Kobe Bryant's comment about teammate Sasha Vujacic to TNT's Craig Sager after the game. He was kidding. Probably.
But I would not have wanted to be Vujacic on the plane ride back to Los Angleles — it was Vujacic who made the play that swung the momentum to the Suns in the fourth quarter. Vujacic personal feud — his cage match with Goran Dragic — led to a play that ignited the Phoenix crowd, turning what had been into a demoralizing rout into a game Kobe needed his brand of heroics to save.
Here's how it went down: It's less than a minute into the fourth quarter and the Lakers were up 17 — and had taken the crowd totally out of it — when Goran Dragic got by Sasha and made a little five foot floater in the lane.
As they started back up the court, Dragic was chirping and standing right behind Vujacic, getting in in his ear. So Vujacic threw his arms up straight in the air, so that his bicep area caught Dragic on the jaw. Dragic fell to the ground, the referees conferred and Vujacic got a flagrant 1 foul — the Suns got two shots and the ball.
This whole incident was very much like a soccer match. Very European. Vujacic couldn't do the mature thing and walk away, so like a guy going for the ball with a slide tackle he was sure to send a little message. But the hit wasn't that hard and Dragic acted like a sniper shot him. He should have had the trainer come out and spray that magic soccer spray on him that cures all wounds instantly. He was fine 20 seconds later.
Everyone was overacting.
Vujacic said after the game Dragic was talking about Sasha's family. Dragic says he was talking to himself. Whatever, they were going at each other. These two have bad blood dating back to the Slovenian national team last summer — which Vujacic was cut from after he missed most of camp with injuries. Dragic is one of that team's stars.
Bottom line is Sasha's foul got Dragic going, and he went on a personal 8-0 run against the Lakers to make it a game again. The Suns went on a 20-8 run that made it a game again until Kobe took over in the last two minutes.
But he likely would not have needed to if Vujacic had not awoken the sleeping Suns. And that is why his flight back to LA was very uncomfortable.