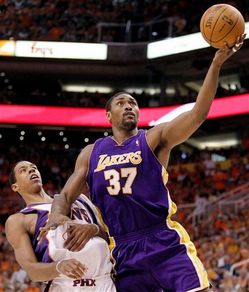 Coming into this year's playoffs, a lot of people would have pointed to Ron Artest and Derek Fisher as potential weaknesses for the Lakers. Both players are battle-tested veterans who bring hustle and toughness to the floor every time they play. However, Artest and Fisher are also a step or three slow for their positions at this point in their careers, and both struggled to make shots all season. (Artest shot 41.4% from the floor; Fisher shot an abysmal 38%.)
Artest's struggles from the field and occasionally questionable decision-making were to be expected to some degree; even so, many fans questioned whether the Lakers would have been better off simply keeping Trevor Ariza in the off-season. Artest's brand of defense was a welcome addition to the Lakers, but it often looked like he was throwing away possessions when the Lakers had the ball. Role players on a team like the Lakers are expected to abide by one cardinal rule — know your role. It seemed like Artest forgot that edict at times, and fans noticed. (Witness the Laker crowd audibly shouting "Nooooo!" at Artest whenever he's lined up an early-in-the-clock three this postseason.) 
Fisher was much more widely derided than Artest, and for good reason. Fisher has always been more valuable than the numbers show, but Fisher's numbers were truly horrific this season. Of the 67 qualifying point guards, Derek Fisher finished the regular season 63rd in PER. In fact, because of his low PER and how many minutes he played, Fisher ranked 324 out of 331 NBA players in
Estimated Wins Added
: Basically, the stat says that only six players cost their teams more wins than Derek Fisher cost the Lakers this season. Not something you generally read about the starting point guard on a team heading to the Finals. Fisher was bad enough during the regular season that many Lakers fans were openly begging for GM Mitch Kupchak to get Kirk Hinrich or Devin Harris at the trade deadline, even though both of them were struggling as well.
Amid all the calls for change in the roster or the rotation during the regular season, Phil Jackson and the Laker front office stood behind their oldest player and their newest acquisition, keeping both of them in the starting lineup throughout the regular season. After the last two games of the Western Conference Finals, it looks like Jackson and Co. put their faith in the right people. 
In game five of the Lakers-Suns series, Fisher was quietly spectacular; he tallied 22 points and six assists on 7-12 shooting from the field. Artest was terrible for the first 47:58 of the game, but more than made up for it with his spectacular game-winning put-back as time expired. 
That game-winner clearly gave Artest confidence for game six, because he did absolutely everything right on Saturday night. Artest played with aggression and hustle, beating the Suns to every loose ball and taking the ball right at the teeth of the Phoenix defense whenever they gave him a chance to do so. Artest's infamously streaky outside shot made the trip to Phoenix as well; he went 4-7 from beyond the arc in game six, leading all players in made three-pointers. Count on Ron Artest to finally put it all together in front of a hostile crowd during the most important game of the season. 
For his part, Fisher wasn't as effective as he was in game five, but he did what he needed to do in key moments to help the Lakers get the win. When the Suns made their big post-flagrant run in the fourth quarter, it was Fisher who made the key plays that got the Lakers back on track. Not only did Fisher make two big jumpers when the Lakers desperately needed to get some offense going, but he drew a key charge on Amar'e Stoudemire that took away some of Phoenix's momentum. However old Derek Fisher gets, it seems like he can always be counted on to hit big shots and use his savvy to draw fouls on unsuspecting opponents. 
Before the playoffs, Derek Fisher and Ron Artest looked like two old, slow players whose lack of explosiveness and streaky outside shots were bogging the Laker offense down. After the conference finals, they look like two crafty veterans whose defensive intensity, toughness, and savvy allowed the Lakers to get into the NBA Finals for the third consecutive year. I wonder what they'll look like after the finals.