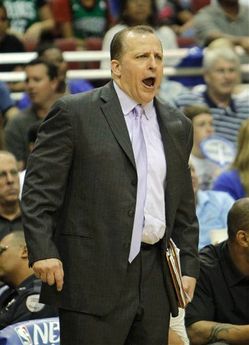 Mama, their goes that wanna-be coach.
Mark Jackson — the former All-Star point guard and current NBA analyst for ABC/ESPN — is getting an interview for the Atlanta Hawks head-coaching job, according to FanHouse.
The Hawks waited until Jackson was done with his responsibilities covering the Eastern Conference Finals before conducting the interview. (Off topic note: Jackson's annoying side banter with Jeff Van Gundy seemed to go down and they talked more basketball this series. Or at least it seemed that way. And thank Buddha for it. Please continue this trend.)
Jackson has no coaching experience but has expressed interest in, and interviewed for, other jobs.
The Hawks have already done two interviews with Mavericks assistant Dwane Casey and with former Mavericks head coach Avery Johnson. However, the Hawks are not rushing the process.
The Bulls haven't rushed the process either, but if they want to get in on the Tom Thibodeau sweepstakes they need to hurry. The Daily Herald says they are now, with General Manager Gar Forman flying to Boston Saturday to do an interview.
The Hornets are rumored to be close to offering the mastermind behind the Boston Celtics defense their head-coaching job.
Thibodeau is represented by CAA (meaning William Wesley is involved), which leads to two interesting notes. First, CAA also represents LeBron James, Dwyane Wade and Chris Bosh, so draw whatever lines you would like there. Second, this is a change in policy for the Bulls and owner Jerry Reinsdorf. In the past the Bulls have refused to negotiate with coaches who have agents. That is in part how they ended up with Vinny Del Negro. But apparently the rules are different because the stakes are higher this time.