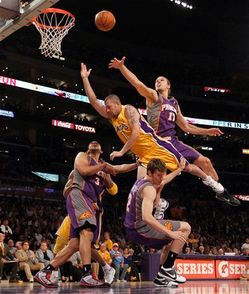 Think of the Suns/Lakers series as a poker game in an old Wild West saloon somewhere outside Phoenix.
By Game 6, the cards are on the table. Both teams have gone all-in and flipped their two cards over. All that's left to do is flip over the turn and river cards. Meaning the strategy is out there for everyone to see — there are no major Xs and Os changes to make any more.
But the fight is not done, the Suns are looking loose and talking Game 7.  The Lakers want their rest, like the Celtics.
In the Wild West the winner was the guy who was quicker on the draw. In this series, the quicker draw is the team that better executes better.
The key end of the floor this series is when the Lakers have the ball (the other end of the court is the more entertaining). Simply, the Lakers want to slow the Suns down by making them take the ball out of the basket, to make them come up and face a set defense. The Lakers do that when the get the ball inside — either by getting the ball in the post to Pau Gasol or via dribble penetration (which is what they used a lot more in Game 5).
The Suns want to block shots and contest inside, give the Lakers jump shots and hope they miss a lot. Which they often do. In the Lakers two losses in Phoenix they took 60 three-point shots, and the long rebounds fueled the Suns break.
On the fun end of the court, the Suns are going to run the pick-and-roll and the Lakers are going to try to take away the roll man. Which means Amare Stoudemire. The Lakers want Steve Nash to be the shooter. The problem with that, as Nash showed in Game 5, he hits a lot of shots.
Controlling the boards will matter. How hot Kobe is will matter. The Suns bench will matter. Which Lamar Odom — aggressive or spectator — shows up will matter. Ron Artest will find a way to matter.
But everybody knows that. Everyone knows their roles now. It's just a matter of who is quicker on the draw.