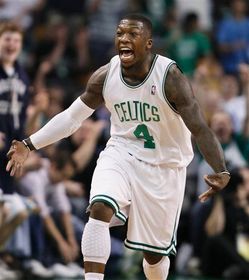 Fans love Nate Robinson — he's a guy their height who can come in and shoot their team to a win on any night.
Coaches fear playing Nate Robinson because he freelances and can shoot you right out of a game just as easy.
Doc Rivers had used Nate Robinson sparingly because of that. But he knew. Someday he was going to need Nate Robinson.
"I told him almost every practice, I made a point of going over to him and say, 'stay engaged, at some point you're going to win a game for us'," Rivers said in his post game press conference broadcast on NBA TV.
That game turned out to be Game 6 of the Eastern Conference Finals. The one that sent the Celtics into the NBA finals for the second time in three years.
Nate had 13 points, all in the second quarter, having been forced into action after a nasty fall to Rajon Rondo.
"The game could have gone either way at that point, we were up 6 or 8 and Rondo gets hurt, and he came in and was such a spark plug," Paul Pierce said.
Actually, the Celtics were up 11, but the game still felt like it was close. Robinson hit two quick threes to start a Celtics roll from which the Magic would never recover. But more important was his defense. Robinson is not exactly a shut down defender. Sort of the opposite. But on this night he was all over Jason Williams and later Jameer Nelson, keeping the Magic point guards in check.
One of the key reasons Rivers had gone away from Robinson ad been defense, but that had changed.
"He gave him confidence in Game 5 that he had bought into the defensive system and there were a couple of sets that he could have success against them with," Rivers said.
Robinson, between his time with the Knicks and Celtics, had been off the court far more then he had been on it this season. A lot of players get soft — physically and mentally — when that happens. Not Robinson.
"I've been patiently waiting to play," he said in an interview with NBA TV after the game. "I think I can help the team in so many ways… Doc told me I was going to help the team win a playoff game, today was the day."
It couldn't have come at a better time.
Well, maybe a game in the Finals would be better. And does anybody doubt that's a possibility?