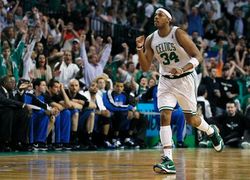 Jameer Nelson came off the picks like he had done for the last two games, attacked into the paint like he had done for two games, tried to shoot like he had for two games.
And there were long arms in the way. Not fouling, but altering shots. His kick-out passes led to contested Magic threes that were missed. The Celtics seemed to be everywhere, contesting everything. It looked like the first three games. It looked like 2008. They held the potent Magic offense to 43 percent shooting, more importantly just 6 of 22 from three.
The defense got the Celtics the win. The defense got them past Cleveland then Orlando in the East. It put them in the NBA Finals for the 21st time. It should strike fear in whomever comes out of the West.
The Celtics brought much better defensive energy tonight, plus they got back to what their game plan had been all series — go ahead and let Dwight Howard get his, don't let the three point shooters get going.
Howard had 28 points on 11 of 17 shooting. With the Celtics fans letting him have it — he has become public enemy number one after the hard fouls in Game 5 — Howard did his part. But the rest of the Magic did not. They are an inside out team that shot just 27.3 percent from three.
It was not all great defense. The Magic had their chances — they got some open looks. But when things went bad, the Magic went away from what they do.
"I think early in the game we got outstanding shots, and they didn't go down…" said Magic coach Stan Van Gundy in his post game press conference, televised on NBA TV. "Then we started forcing our offense, instead of trying to get the same shots we had. Then we had some defensive lapses, we didn't get back on defense. They had 16 first half points."
Then at the start of the third, two key Ray Allen three solidified the Celtics lead at 19. After that the Magic pressed, they gambled, and none of it worked. For the most part the Celtics stayed disciplined. The Celtics seemed to have defensive lapses in the second half, but the Magic could do nothing about it.
Next Thursday either the Lakers or Suns will meet the Celtics defense. Two very different, very difficult teams to stop. But after what the Celtics have done the last two rounds, it is those teams out West that should fear the Celtics defense (the Lakers have it seared into their minds what it can do). If Boston keeps playing like they have, knocking off the teams with the two best records in the NBA, there may be no offense that can keep them from having to find room for another banner.