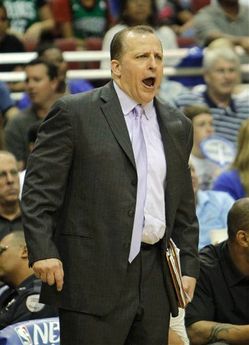 William Wesley is everywhere. Most recently, he's been the guy linked to trying to push LeBron James and John Calipari as a package. Although his employer — CAA — also represents Dwyane Wade and Chris Bosh, so there are all sorts of connections.
And now you can add Tom Thibodeau to the list.
Brian Windhorst tweeted that Wesley now represents Thibodeau. All that really means is Thibodeau — who is expected to be offered the New Orleans Hornets job —  is connected now. Not that he wasn't before, but this is a different level.
What this really means is that wherever Thibodeau lands, if they can afford to bring in free agents in the next couple of years, there are connections. The back-channel connections that get things done in the NBA, and David Stern can't fine. Wesley is a good man to have in your corner that way.
But what Thibodeau does with his chance as a head coach still ultimately falls on Thibodeau.