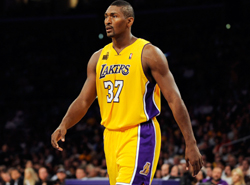 Last night he took two of the worst shots in Lakers playoff history. Then one minute later he may have saved the Lakers season with a pure hustle rebound and putback game winner. Then after the game he went to the gym to work out.
Then today, he showed up half an hour late to Lakers practice.
Phil Jackson said it was an innocent mistake that Artest just misread the Lakers practice start time off the board in the team locker room the night before. Still, he said Artest was getting a fine for that.
For Game 6… I really have no idea what Ron-Ron will do. He could show up to play in one of Craig Sager's suits and I wouldn't be surprised anymore.