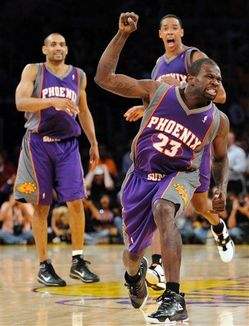 The Lakers players were still mobbing Ron Artest, the Staples Center crowd still singing "I Love LA" (and missing the irony of the lyrics).
The Suns had slid back into their locker room, and Suns coach Alvin Gentry said Steve Nash was the first to speak.
"Time to forget about this game, time to move on to the next one."
For a lot of teams, that would be the cliché but not the reality. Human nature is to wallow in self-pity for a while, to let a painful loss bleed over into the next game.
Except the Suns can't do that — that is a wall they feel against their back. And they won't. It's just not how this team is wired. Come tip-off Saturday night the Suns will be bombing away from three, running the pick-and-roll with a vengeance and busting it to win. Demoralizing loss?
"Not for that team," Kobe Bryant said after the game, recognizing the reality of what is ahead. "I think that team bounced right back. Loosey goosey bunch. Just go out and play. I don't think they'll linger at all."
They showed that in Game 5.
The Lakers led by 18 points in the third quarter — they were finally getting shots they liked inside, via dribble penetration and passing, and they were defending the pick-and-roll well. The Lakers have gone to taking away the roll guy and just hoping the threes don't fall.
But the Suns started doing their thing.
"We just fought back," Channing Frye said. "We're a resilient bunch, and we just started believing in each other and just kind of playing our style of basketball, picking up the pace."
Frye hit some threes, Jared Dudley got a four-point-play when he got Pau Gasol to foul him on a three-pointer. That was a big momentum turner. Things got tight.
Then there was Steve Nash, going bananas. He and Kobe started playing "anything you can do, I can do better" to the delight of true basketball fans everywhere. That was a show. The Lakers dared Nash to be the scorer, and he was.
But he and the Suns fell short. An unexpected, crazy play short. And that hurt. This is a franchise that continually seems to get to the brink but cannot break through.
Except that's not how they see it. They see a series they were counted out of a week ago that they are still in. They see a game they could have won, and they left Staples Center that night maybe more confident than when they went in.
"You know, everything is okay," Nash said. "We came back, obviously, with great effort. Maybe we deserve this game and maybe we didn't. And lost. And they held home court. We'll go back and do the same and we'll come back here for Game 7."