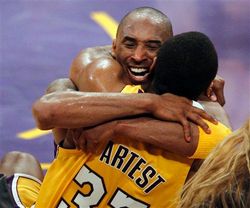 Phil Jackson has seen everything.
Well, except a player go from goat to hero faster than Ron Artest did on Thursday night, he said.
With one minute left and the Lakers up three, Artest took an early-in-the-shot-clock three that literally had half of Staples Center yelling, "nooooo." Fans scorned him — "Trevor Ariza never would have taken that shot" — and Jackson said he almost benched him.
"I don't know why I left him in the game," Jackson said. "I actually
questioned it myself when I put him out there on the floor, and there he
was. Made the key play."
Tied 101-101 with 3.5 seconds left, the Suns defended the Lakers inbound play perfectly. Everyone in Staples (and watching at home, and in the Milky Way) knew the ball was headed to Kobe. It did, and Kobe went for the quick catch, spin and shoot from three. But Grant Hill got his hand in there to force Kobe to double-clutch. The shot was short and the game was headed to overtime.
Then came Ron Artest.
"I thought Kobe got fouled on the shot," Artest said. "So I just kind of figured it was going to be short…. And it was a little short."
While nine other players on the court were ball watching, Artest moved from the weak to the strong side, caught the short airball, landed, spun and put up a quick bank shot. Net. Lakers 103-101, and what had looked like a series that might get away from the Lakers suddenly is firmly in their grasp, up 3-2.
Was that the biggest shot of Artest's career?
"Biggest layup," he said.
Artest was mobbed by his teammates and Staples Center was as loud as it has been since last year's NBA Finals. Maybe louder.
Up to that point, save for one big steal and break away layup, Artest had not had an impact on the game. Then he had the bad one with a minute left, first taking a questionable jumper with the Lakers up three. But Pau Gasol grabbed the rebound and kicked it back out to Artest for a full new 24-second clock. And Artest launched a three that almost made him the goat because the Suns now had life (and they had been fighting back all night). Two missed threes and two Suns offensive rebounds later, Jason Richardson called bank and hit the three that tied the game. Okay, he didn't call bank. But nobody cares, it still counts. Game tied 101-101.
But then came the shot. Maybe THE shot of the playoffs so far. And there was nothing but love for Artest in Staples. He  was mobbed by teammates, fans screamed. And the Suns all felt nauseous.