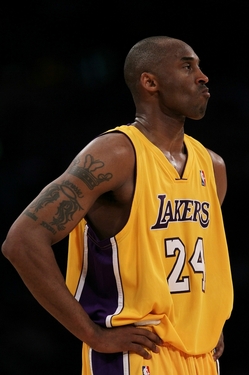 We all know who Kobe Bryant is — one of the most successful, dynamic, creative, and audacious scorers to have ever played in the NBA. Kobe's passing has always been very good, but he's generally preferred to take over games with his scoring throughout his career. 
Yet in crunch-time on Thursday night, while passing virtuoso Steve Nash kept the Suns in the game by making tough shot after tough shot, Kobe was the one making pinpoint passes and trusting his teammates to make big finishes. 
Kobe wasn't as red-hot from the field in game five as he was in game four, but he made enough tough shots in the first 7/8ths of the game to give the Lakers a 88-83 lead with just over six minutes remaining in the game. From that point on, Kobe did most of his damage by picking apart the Phoenix zone with passes that led to layups and wide-open jumpers rather than trying to win the game by himself with contested jumper after contested jumper.
Kobe's playmaking takeover stared when Bryant found Pau Gasol for a layup with 6:16 left to play. After that, Kobe drew the defense and found Derek Fisher, his longtime backcourt partner and big-shot specialist, in the corner for an open three that put the Lakers up eight. After answering a Steve Nash mid-range jumper with one of his own, Kobe flared up on the weak side to draw the defense away from the corner, where Fisher went to make another catch-and-shoot jumper. 
As Nash kept dribbling around the perimeter and making shot after shot, Kobe remained content to set up his teammates with beautiful passes, finding Pau with a pass in the lane that led to two free throws and Lamar Odom in the "blind spot" of the zone for a layup. With 20 seconds left, Bryant made a beautiful pass to set Gasol up with a dunk opportunity that should have put the game away, but Gasol's dunk bounced off the rim, allowing the Suns to tie the game with a third-chance three. 
With three seconds left, Kobe forced a game-winner attempt and missed badly, but Ron Artest was there to clean it up and give the Lakers the win, making up for Gasol's gaffe less than a minute earlier. Just goes to show that trusting your teammates can pay off in all sorts of ways that you can't expect. 
Kobe couldn't miss from the field for much of game four, but the Suns were able to take him out of the game late by aggressively doubling Bryant in the fourth. Since the Lakers' offense had been four guys standing around and watching Kobe up to that point, they had no idea how to attack the zone when the Suns took the ball out of Kobe's hands. 
In game five, Kobe and Co. made the necessary adjustment. When the Suns forced the ball out of Kobe's hands, his teammates knew where the weak spots in the zone would be, and Kobe knew where and when to find them when they flashed open. With the Staples crowd and their years of playoff experience giving the Laker role players confidence, they were able to step up and put the game away when the Suns tried to throw double and triple teams at Kobe on the perimeter. 
I could talk about how Kobe willing to set up his teammates in such a big game is an example of how he's matured over the years, but I've never quite believed in the new/old Kobe thing. The defense was giving Kobe passing lanes rather than easy shots, and Kobe has players around him who he can trust to make big plays late in the game rather than the terrible supporting cast he had in his early post-Shaq years. If the Suns go man-to-man late in game six and his teammates are struggling to make shots, I would wager that Kobe would take that game over with his scoring. 
Forget the new Kobe. Forget the old Kobe. Forget looking at each of Kobe's big playoff performances like a window into his psyche. If you get caught up in all that stuff, you might miss the player who's been doing the same, mostly amazing thing for a number of years now: the most complete player in basketball, and maybe the most complete player ever, doing whatever he can to try and get his team as many wins as possible, especially when it matters most.