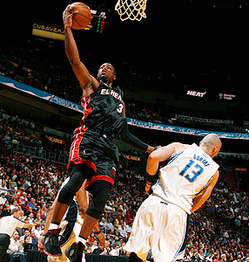 It's a whole different kind of collusion, and there is nothing the league can do about it.
Some time next month, Dwyane Wade, LeBron James and Joe Johnson are all going to sit down together and talk free agency plans, Wade told the Chicago Tribune. All before the July 1 official start to free agency.
"(Free agency) has been three years coming," Wade said. "We've discussed it prematurely, at different times. (But) you don't know what guys are thinking and where they're going. I think we'll all sit down, and before one of us makes a decision, all of us will have spoken to each other and (listened to the) thinking.

"A lot of decisions (will be based on) what other players are willing to do and what other guys want to do. So it's not just a 'me' situation here. We all have to look and see what each other is thinking."
Bottom line, they are going to choreograph the dance. They will work to set up package deals.
The players will talk with each other, and unofficially they will know what the teams are thinking (although they won't say that). The NBA has a tampering problem, it just can't really do anything about it. Oh, sure they can fine Mark Cuban or Steve Kerr when they foolishly speak on the record about such things, they can make a big show, but it doesn't really solve the problem.
Back channel conversations are a constant in the NBA. A whole separate network of discussions goes on through intermediaries. Talks that are unofficial because the two main parties don't speak directly. For example, R Nets president Rod Thorn emphatically denied having reached out to Phil Jackson — and Jackson backing him up — to discuss their coaching vacancy. But that is an easy conversation to have quietly, with a contact of the new owner reaching out to an associate of Jackson's to just gauge interest. In this case that conversation may or may not have happened, but the point is it easily could have. And similar conversations do happen all the time.
So when the players all get on the conference call next month, they are going to have a lot of information. By the time July 1 rolls around, our own Ira Winderman pointed that teams will know who is available.
But it looks like the players (and their agents) will be picking the dance partners, not the other way around.