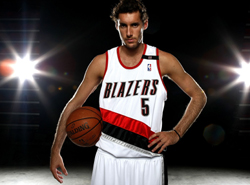 A long, long time ago, things were undeniably pleasant in Blazerland. Brandon Roy's rise to stardom had invigorated an already fervent fan base, LaMarcus Aldridge was well on his way to becoming an impact player, and a collection of young talent spearheaded by the imminent Rookie of the Year, Greg Oden, looked set to take the NBA by storm for the next decade. On top of it all, Kevin Pritchard, the bell of the GM's ball, seemed to be on a can't-miss streak.
Then came the injuries. To Roy, to Oden, to Travis Outlaw, to Martell Webster, to Joel Przybilla, and to everyone playing pick-up ball in the greater Portland area while wearing Blazer garb. The sweetness started to get just a bit sour, and even though the '09-'10 Blazers' 50-win mark is a spectacular achievement given the season's circumstances, it doesn't quite measure up to the team's promise.
It's almost not fair to make such an assessment now, given how much the Blazers will improve with some better luck and a healthy roster. There's still a lot going right in Portland, even if the bizarre string of injuries ended Portland's season in the first round this year.
So of course, there are other problems. While the off-season gives the Blazers an opportunity to rehab and recover, it also gives every player on the roster plenty of time to stew, including Rudy Fernandez. I wouldn't say Rudy is disgruntled per se, but the rumors of his discontent in Portland have been rolling for some time now. So naturally, with the off-season as a catalyst for reflection, Rudy is vocalizing a bit of what's been bothering him. Here's Fernandez, in an interview by Diario De Mallorca (as translated by HoopsHype), via Blazers Edge:
"Disappointed and deceived. I've always asked for more responsibility
on the team but this season they didn't give any chance. Something like
that makes you lose all focus, because you don't know what is going to
happen next year."

Regarding a possible trade, Fernandez states, "I'm comfortable in
Portland but I'm sure I could provide experience and talent to another
team."
Fernandez also denies, again, any contact with major Spanish clubs in Barcelona and Madrid.

Fernandez will play hard for Portland for as long as they'll have him, but BlazerNation needs to refill Rudy's Kool-Aid cup, ASAP. Not because this situation will grow to be completely out of control or because Fernandez is some kind of malcontent, but because in order to continue to build the team while retaining as much talent as possible, Rudy is an important piece. Maybe he's a movable piece, but still an important one.
It's possible that the Blazers will try to move Fernandez this summer to accommodate his desire for an increased role, or just to clear up minutes on the wing. Either way, even Rudy's cult following among the Blazer faithful aren't enough to keep his spirits up these days, and Fernandez is hungry for more minutes, more touches, and more responsibility.