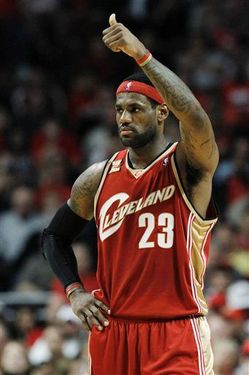 It was a brilliant bit of strategy by LeBron James last time he was a free agent — with a six-year deal offered, he negotiated it down to just three years (about $60 million over the three years).
It was brilliant because kept his options open. It kept pressure on the Cavaliers organization to build a winner around him (they tried and brought in a number of quality players but never won). Dwyane Wade liked the idea so much he did the same thing in Miami.
Could it happen again? Could LeBron — wherever he lands — and Wade take three-year deals one more time?
Don't bet on it.
While nobody has said anything officially, there is one key difference this time around — a new Collective Bargaining Agreement is being negotiated. (Or being talked about being negotiated, as the case may be.) While nobody knows exactly what the new CBA will entail, it likely will have a reduction in the amount of a maximum salary and the length of that contract. All deals may also not be fully guaranteed.
LeBron, Wade, Chris Bosh and other free agents would be foolish to leave money on the table, and taking a three year deal rather than the five a new team can offer (or six from the current team to stay or in a sign-and-trade) would be just that. These guys are smart, they will not leave money behind.
Everyone will be looking for a max deal for the full length, even non-max guys will be looking to get deals to last them into the new CBA.
That doesn't mean LeBron and Wade couldn't negotiate an opt-out after three years. That would give them some leverage and put pressure on the teams to build and maintain a winner. But if a player did opt out, he would have to negotiate under whatever the rules are in place from a new CBA. That means they would be costing themselves money to get out of town. Things would have to be pretty bad for that to happen.
Simply put, it will be different for LeBron and Wade this time because it's always all about the money.