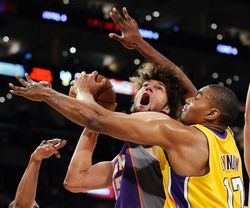 The Lakers have taken a page out of the Boston/Orlando series — they have gotten physical on defense.
The result is an 8-point lead at the half.
At first this game looked a lot like the first two, as the Suns got off to an early lead. The Lakers made a concerted effort to go inside to their bigs (15 of 22 first-quarter shots were in the paint). However, the Suns collapsed five guys down into paint and dared the Lakers to shoot from the outside, while blocking shots inside. The Lakers started out shooting 3 for 13 and the Suns kept doing their thing, they were up 7.
Then Kobe Bryant picked up an early second foul, and it looked like the Suns could have a healthy lead. But he only sat out a few minutes, coming back in with 5 minutes left in the first quarter as Phil Jackson felt the game slipping away.
Then the Lakers stopped passing inside and started attacking off the dribble, and things changed. They started getting better shots inside and that later led to kick-out wide open threes that the Lakers hit.
Los Angeles went on a 31-10 run and led by 13. The Suns bench, so crucial last game, seemed flummoxed by the more physical Lakers D — the Suns had 4 points in five minutes with Nash out. Suns coach Alvin Gentry was so frustrated with the physical play he got a technical for saying some magical words to the ref.
The Suns made a mini-run late to cut the lead back to 8 at the half. But they need to adjust to the Lakers style of play in the second half if they are going to win.