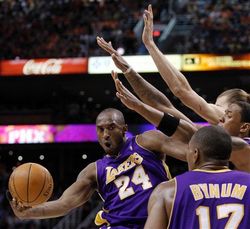 It's not about Kobe Bryant seemingly scoring at will this series. Or Pau Gasol in the post. It's not about Amare Stoudemire or the awakening of the Suns bench.
It's about defense — that is what has decided every game in this series up to now, it is what will decide Game 5 tonight at Staples Center. The winner Thursday probably wins the whole shootin' match in the West. This is huge.
In the first two games, the Lakers defense took away the Suns easy baskets on the pick-and-roll. Lakers guards fought over the top of the pick, the big men showed out and other Lakers stayed at home on the three-point shooters. The Lakers took away the dribble penetration that the Suns thrive on and forced them to be jump shooters, and while the Suns are a good jump shooting team they hit less of those than dunks. Or open threes.
But that changed in Games 3 and 4, as did the Suns defense.
The Suns zone defense has gotten a lot of publicity, but it really hasn't stopped the Lakers from scoring — particularly in Game 4, when the Lakers were putting up points at a high level.
But the zone has dictated how those points have come, and with that the flow of the games. The Lakers launched 60 three pointers in the last two games, and they are not a good outside shooting team. This led to a lot of long rebounds and the chance for the Suns to get easy baskets in transition. The Lakers scored, but the Suns defense helped them score much more.
If the Suns can again keep the Lakers from getting their points at the rim — turning the Lakers into jump shooters like LA is trying to do to them — they will get those same break chances, those same easy points and maybe the same wins.
Kobe is going to get his, but will he get any help from teammates this time around who stop shooting outside and start driving inside? Can Nash and Stoudemire keep getting their shots at the rim, keep exposing the slow rotations of an injured Andrew Bynum?
The answer to one of those questions will be yes, because they will have figured out the other team's defense. Whichever team's defense hold firm will win Game 5. And maybe have earned a trip to the Finals.