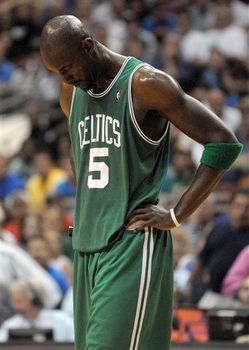 Give credit to the Magic — a lot of teams would have just rolled over after losing three straight games and meekly surrendered their season. I'm looking at you, Atlanta. The Magic showed some fight, caught a couple breaks and won Game 4 in overtime.
Then they came out and threw a knockout punch. A haymaker. It connected right on Celtics jaw in Game 5. It seemed to give the Celtics a concussion, and I'm pretty sure Kendrick Perkins dropped an F-bomb when it landed and got ejected for it. For Celtics fans, that one hurt.
Except you can't knock someone out with a second loss.
By rule, Boston lives to fight another day.
It is Game 6 or bust for Boston, it wants no part of a Game 7 back in Orlando. Friday night is the showdown.
Game 5 was just a perfect storm of things gone wrong for the Celtics. Orlando couldn't seem to miss from three, hitting 52% of their shots, and Jameer Nelson was 4 of 5 from deep. JJ Redick stepped up to be everything Vince Carter is not. Celtics players kept getting in foul trouble. Dwight Howard played 40 minutes and collected just two personal fouls while being the most aggressive player on the floor. Ray Allen was cold (3-11). Jason Williams was breaking people's ankles. Rashard Lewis looked healthy and was hitting shots against the Boston defense.
Game 6 will be different. The opponent's rims always seem a little smaller in big games at the Garden. Ed Rush will not be one of the referees. Kendrick Perkins should be back (although predicting the whims of the league office is fraught with peril). Allen and Rajon Rondo will play better at home. Magic players may end up in some foul trouble.
But it comes down to defense. Always does with Boston.
Kevin Garnett must be inspiring and be everywhere, as he seemed to be at the start of this series. In the first three games the Celtics took away the Magic pick-and-roll and forced them to do other things, contested threes, and then turned defensive stops and turnovers into some easy buckets going the other way. Rondo was pushing the pace and probing the Magic. Wednesday night, it was Nelson doing that (and getting a couple easy buckets for the effort). In Game 6, Rondo has to stay in front of Nelson. He needs help on those picks, but he has got to recover and help defend the man who the whole Magic attack centers around. He needs to be back in transition. It is about the defense first.
Paul Pierce needs to step up, ditch the melodrama, and play like the 2008 Finals MVP. The Magic don't have a good matchup to stop him. He had 18 points and got to the line 10 times in Game 5, but he needs to keep attacking plus shoot better than 3 of 8. He needs to be the unstoppable force. Finally, the Celtics bench needs to step up with better than the 5 for 14 shooting performance of Game 5 (once you take the hot but foul-prone Rasheed Wallace out of the equation). Tony Allen needs to hit shots. Sheed needs to keep hitting them, keep defending and stay out of foul trouble.
All of this can happen. The Celtics still lead this series, they still need just one win and they are heading home to a place that has been a fortress over the decades. Those banners hang up above because the Celtics win things like Game 6.
The Celtics are not in that much trouble. But they will be if they lose Friday night.