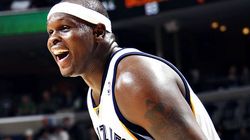 Well, at least somebody still likes Zach Randolph. For now.
The day after word came out that Z-Bo has been implicated as a major marijuana supplier to the Indianapolis area, and just hours after word came out from Los Angeles that Z-Bo's posse (at least) were involved in beating up a man at a strip club, the Grizzlies General Manager Chris Wallace said nice things about the man in an official statement.
"Since Zach Randolph became a member of this organization, he has been an active member of the Memphis community and embraced our core values of hard work and leadership. These qualities helped him develop into an NBA All-Star this season and guided one of the NBA's youngest teams to a 16-game improvement.

"Zach's continued commitment to the team has been evident the last couple of weeks as he's been working out with members of our staff on the West Coast.

"Due to the ongoing police investigation, we do not feel it would be appropriate to comment further. Unless some other information surfaces, Zach remains a valued member of the Grizzlies family and Memphis community."
Randolph's attorney has told ESPN that Randolph's long-time friend watches that home and car and Randolph himself had nothing to do with any drug activity.
It was what you'd expect the Grizzlies to say this early in both investigations, but notice the wiggle room of "unless some other information surfaces."
If the news out of these investigations gets worse for Randolph, you can bet the tone of the next release will be different.