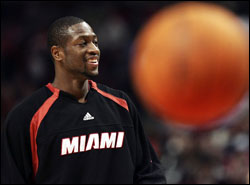 Earlier we talked about the upcoming Apalachin Meeting with all the top NBA free agents conferring with each other.
But in that same Chicago Tribune article where Wade spilled the beans on the meeting, he also pretty much ruled out returning to his hometown of Chicago to elevating the Bulls to elite. It sounds as if he does not really trust ownership.
"I think the biggest question that you think about has to be loyalty," said Wade, a Richards grad who added he has been a Bulls fan for a long time. "I know one thing about Miami: It is a very loyal organization. I see what they do with their players when their players get done with the game of basketball … how loyal they are. I don't know about the Bulls."

"I see Michael Jordan is not there, Scottie Pippen is not there. … You know, these guys are not a part," Wade said. "Things like that. So that is probably one of the biggest things for me, because I am a very loyal person."
The legendary Bulls of the 90s have not become part of the franchise in the way Lakers legends have been integrated in Los Angeles, or Celtics legends have been embraced by the Boston organization. But that was a two-way street, Jordan was happy to burn some bridges on his way out the door. 
Here's what matters: For Wade, this is a deciding factor. When all the big free agents get together for their confab, will that attitude hurt the Bulls ability to get other free agents? It can't help.