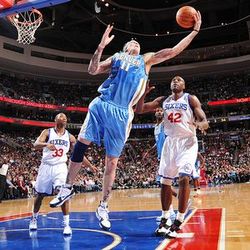 Chris Andersen was not the Birdman during the playoffs. He was battling knee pain and the intimidating, high-flying blocks and dunks were virtually nonexistent. Which really hurt the Nuggets against an undermanned Jazz front line Denver did not exploit.
Not surprisingly, he has just undergone knee surgery, according to the Denver Post. He had a tear to his patella tendon repaired.
He should be back and leaping out of the building again by the start of next season.
Andersen is coming off a good NBA season despite battling injuries all the way through. He had a true shooting percentage of .631, was all over the boards and was still giving the Nuggets 1.9 blocks per game in just 22 minutes.