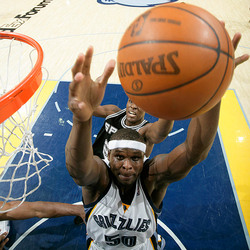 Zach Randolph, drug kingpin?
That is the charge coming out of Indianapolis — he has been implicated as a major marijuana supplier in the Indianapolis area. Randolph has not been arrested or charged, but he is currently in the middle of a police investigation in Indiana.
Randolph was born and raised in Marion, Indiana, about 90 miles outside Indianapolis. . Fox News Memphis has the best synopsis.
A stake out on a suspected drug house 2 weeks ago led to 32 year old Arthur Boyd being pulled over in a Cadillac Escalade. The vehicle had marijuana and ammunition inside, and was registered to Randolph.

The Escalade led police to a storage facility where they say Randolph rents four lockers. According to the document, police dogs found controlled substances in two of the four lockers.

John Tompkins, Randolph's attorney, was quoted by 6News saying that Randolph is not connected to any drug activity. He went on to say that the vehicle's secret compartments were a safety precaution for concealing valuables. The Memphis Grizzlies will release a statement supporting Randolph on Thursday, according to Tompkins.
Randolph has a history of run-ins with the law, although never anything that would have suggested drug dealing. Last summer in Los Angeles he was arrested for driving under the influence, and back in 2002 he was arrested for underage drinking. He also was convicted of battery at the age of 17.
It appears Randolph will say he had ho knowledge of what his friend was doing with his truck and his storage facility. Maybe. Or could be what government officials like to call "plausible denial" — you know what is happening but you set up enough distance so you can't be implicated. Really, this is so early, it's hard to say here which is the truth.
But Randolph at the very least looks like he's in for a rough summer. And maybe much worse.
Randolph has one more year on his current contract and is owed $17.3
million next season. He had another solid season last year — the guy has
always been able to score from the left low block and rebound well. His
defense has always been suspect but Marc Gasol covered that up this
past season. What he does well is what Memphis needed from the position,
and so he fit in better than anywhere he has been (save maybe the 06-07
season in Portland).