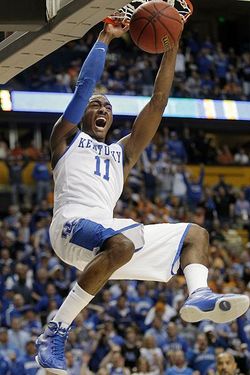 I know the Washington Wizards are going to take John Wall first overall in the NBA Draft. You know it. The Wizards know it. Everyone else in the NBA knows it. Scouts in the Puerto Rican league know it. Yak herders in Mongolia know it.
Wall cemented that spot at the recent draft combine. But for some reason, the official game is for Wizards officials to never actually say that is what they are going to do. As if this is keeping some other option open. Whatever.
Wizards coach Flip Saunders almost broke the rule and came about as close as anyone has to saying what we all know with his comments to the Pioneer Press.
"Dwight Howard comes along only once every 10 years," Saunders, the former Timberwolves coach, said of the Orlando Magic's all-star center after watching Tuesday morning's workouts of draft hopefuls at Target Center. "You can have good big men, but if you don't have guard play, it doesn't help you. Point guards keep you in games…"

"He might revolutionize the point guard position because of his athleticism, but he has an extremely intelligent mind-set as far as running a team."
Saunders also said that Wall was a pure point guard, not someone who would be shifting over to the two spot. That would be Gilbert Arenas. If he plays. But that is another can of worms entirely.